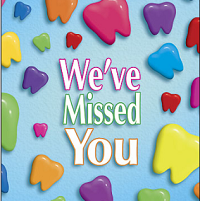 Dear Balmoral Dental Family,
We are excited to announce that we will be opening Monday, May 4th for all dental needs. Most of you have already been contacted and have rescheduled your appointments! For those of you who are now ready to schedule, please give our office a call and a staff member will get you scheduled at the earliest convenience. We ask that you please understand that we will be receiving higher volume of calls and to leave a voicemail in the chance we do not answer.
We will be re-opening with a "new normal" and we ask that you please read this email in detail. Our office will be implementing the following changes in order to protect our patients, staff and properly follow the updated guidelines provided by the State.
If you been exposed to COVID-19 and/or have a fever and symptoms i.e. cough or difficulty breathing please cancel your appointment with us and contact your healthcare provider.
You will be sent a questionnaire via text the day before your appointment. We ask that you please fill this out PRIOR to your appointment.
It is required that patients where a mask when in the office. We ask you to bring a mask from home.
Once you arrived in the parking lot, please call or text us from your vehicle to let us know you are here. We will then ask you to come in or ask you to wait until we contact you that we are ready. There waiting room is CLOSED.
Please plan to attend you appointments alone. If you/your child/your family member is unable to attend alone, ONE parent/guardian may accompany them. That one person must be in the treatment room, not the waiting room. We require that person to bring their own mask to this appointment.
Once inside the building, you will be greeted by a staff member who will supply you with hand sanitizer. Your temperature will be taken and recorded. If the temperature reads 100.4° F or higher, we will ask you to return to your car and your appointment will be rescheduled.
Once in the treatment room, adult patients will rinse for 60 seconds. If you are here for a cleaning appointment you will also rinse at the end of your appointment prior to checking out.
A few more important items are listed below:
Please allow for longer duration of your appointments as we navigate this new normal together
We will be asking for payment at the beginning of the appointment to alleviate any congestion at the reception desk at the end of appointments
We ask you to please be patient as we have more limited availability and may request to alter your originally scheduled treatment times to better accommodate the new guidelines
Rest assured that we will continue to use the highest infection control that we have always provided as well as the additional new measures listed above. We follow recommendations made by the American Dental Association (ADA), the U.S. Centers of Disease Control and Prevention (CDC) and the Occupational Safety and Health Administration (OSHA).
Thank you for being a part of the Balmoral Dental Family and we are thrilled to be able to serve our patients needs again. We understand things will feel a little bit different than our usual routine but we look forward to welcoming our patients back! We thank you for trusting us with your care.
Sincerely,
Dr. Katie E Denney and your Balmoral Dental Team